In order to avoid the danger of real people checking terrorists after the murderer was knocked down, the French police used a robot called Cameleon to perform the task of checking terrorists. Cameleon is a robot specifically designed to detect explosive devices and can be used to mine and detect operations involving chemical, biological, radiological or nuclear biochemical threats. The Cameleon comes with a large touch screen, two joysticks, a microphone and headphones. For safety reasons, the maximum distance that an investigator can operate with a radio remote control is 500 meters. For wired operation, the maximum distance is 200 meters.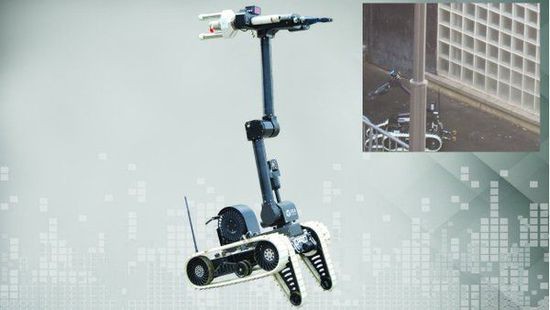 Robot Cameleon, in the upper right corner is Cameleon near the terrorists
The police searched the remains of the robot and found a note written in Arabic with the words "Retaliation for the dead in Syria" and the flag of the IS organization. In addition, text messages written in Arabic and German were found on his mobile phone, confirming that the man had sworn allegiance to the leader of the Islamic terrorist organization IS.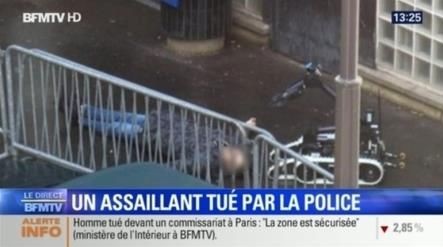 Cameleon is checking terrorists who have fallen to the ground
After identification, the perpetrator was born in Casablanca, Morocco, in 1995. He had no permanent residence and had a theft in the police in 2013 when he reported to the police as Sallah Ali.
Cameleon's picture near the man's remains was photographed by the nearby residents and published on the Internet, causing hot comments and praise from netizens, and called it "Wal-E" (Movie "Robot Story").
In fact, it is not the first case to let robots participate in social security work. In corporate campuses and data centers around Silicon Valley, a group of security robots called KnightscopeK5 are also patrolling every day.
K5 is a security robot developed by California-based startup Knightscope in 2013. The company hopes to reduce crime rates by 50% through K5. Based on GPS positioning system and laser ranging technology, K5 captures and senses the surrounding environment through four cameras on the body, and uses sensors, cameras and face recognition to analyze and report suspicious behavior. Combined with microphones, radars and environmental sensors, the K5 can also detect fire and gas leaks. When the K5 monitor needs to call its microphone, the data information can be transmitted over the general mobile network and Wi-Fi. And if a "lawless" tries to hold it, it will give an alarm.
Currently, K5 is mainly used in enterprise parks and data centers around Silicon Valley. Knightscope charges $6.25 per hour for rent - lower than the hourly wage in the United States. The most important thing is that K5 can patrol around the clock, when the battery is low. Can automatically return to charging. Recently, the French police used robots to detect the bodies of the perpetrators, causing a sensation among netizens. The murderer tried to attack the 18th district police station in Paris, and after the fire was intercepted by the police, he was shot and killed.
Lemon Press,Juiceman Juicer,Cheap Juicer,Black And Decker Juicer
JIANGMEN JIANGHAI DISTRICT SHENGHUI ELECTRIC CO.,LTD , https://www.shenghuielectric.com